The rate of decline in UK retail sales slowed down from -6.8% to -6.1%, which turned out to be slightly worse than the forecast of -5.6%, but we are still talking about an improvement in the dynamics. Especially since the previous data was revised upwards from -6.9%. So once again the market had no reason to implement the long-awaited correction. The dollar is still heavily overbought. And if even a few weaker retail sales data were not enough to initiate it, then today's completely empty macroeconomic calendar will also not allow a local correction.
Retail Sales (UK):
The GBPUSD currency pair, despite the scale of price fluctuations, is moving along a fairly regular range within the limits of two control levels: 1.1750 and the lower area of the psychological level of 1.1950/1.2000.
The RSI H4 technical instrument is moving in the upper area of the 50/70 indicator, indicating a bullish mood among market participants. This may be a residual signal, but in order to change it, a comprehensive solution is necessary in terms of technical analysis. It means the end of forming a flat along a downward trajectory, as well as keeping the indicator below the average level of 50.
The Moving MA lines on Alligator H4 and D1 are directed upward, this signal corresponds to the bullish mood of traders of the GBPUSD pair.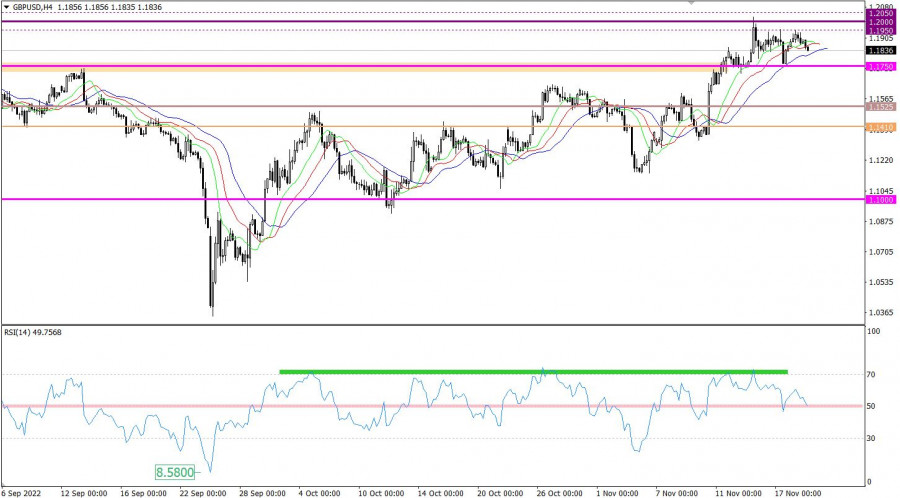 Expectations and prospects
In this situation, the conversation about primary changes will arise only after the price stays outside a certain level for at least a four-hour period. Till then the risk of a rebound will remain, which allows the subsequent formation of a horizontal channel.
Complex indicator analysis in the short-term and intraday periods have a variable signal due to stagnation. In the medium term, indicators are focused on an upward cycle.